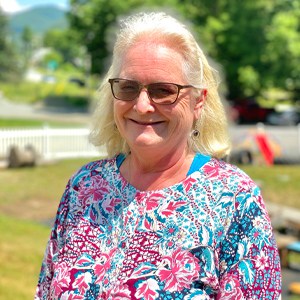 Hi! My name is Julie Breault and I am a native of Woodstock, graduating from Woodstock Union High School in 1979. I feel blessed to be part of the Rainbow Playschool staff, where through play, children learn about themselves and their place in the world.  I am inspired by their natural curiosity and energy. Each day is a new adventure!
Music is a love of mine and something that I try to incorporate daily in the classroom. Music has a special way of touching everyone and is a wonderful tool to use in teaching.
I am a mother of two and have 5 grandchildren. All of my grandchildren have either attended or graduated from Rainbow Playschool. My earliest teaching experience was as a Sunday School teacher and although my professional life has had many twists and turns, I have found my way back to my passion of caring for children.
I am a 2021 graduate from Community College of Vermont with an Associates of Arts degree in Early Childhood Education. I continue to take professional development trainings through Northern Lights at CCV.