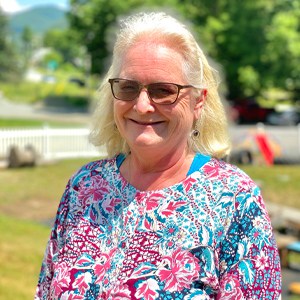 Hi!  My name is Julie Breault and I am a Woodstock native.  I am so excited to be part of the staff at Rainbow Playschool and am currently a teaching assistant in the Pre-K classroom. I love children and am inspired by them.  It is an honor to be part of their growing.
I am currently taking courses through Northern [email protected], which will give me the knowledge to obtain my Level I certificate on the Vermont Early Childhood Career Ladder.
One of my goals is to incorporate more music and singing into the programs we currently have.  I play the piano, clarinet, a little guitar and am teaching myself to play the ukulele.
I am married with two grown daughters and all five of my grandchildren have either graduated from or currently attend Rainbow.