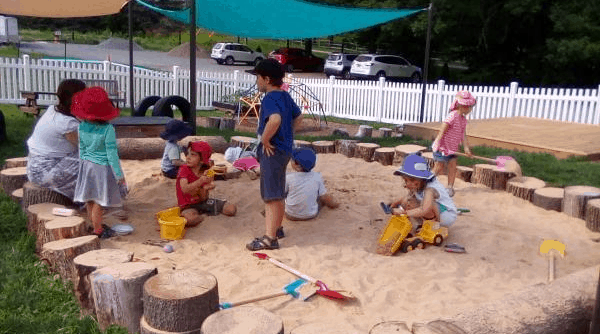 Happy Augusts, Rainbow Playschool! We've reached the end of the month, and with it are half-way through the summer term. Can you believe time has flown by so quickly? We certainly can't!
We have so much good news to share with you, as well as some quick reminders for the weeks to come.
Firstly, we ask that parents refrain from entering Rainbow Playschool during pick-up and drop-off; this includes walking onto the playground and into the building itself. This is a part of our new Covid19 policy. When it's time for pick-up we will bring your child to the playground gate or to the preschool door (should it be raining or too hot to play outside) along with their belongings to take home for the day. Please give one another a safe distance while waiting for your child, and please remember to wear a mask! Your continued trust and care helps to keep Rainbow Playschool safe.
Secondly, we would like to remind parents and guardians that Rainbow Playschool is a nut free school. We ask that you check the food labels on what you plan to send in to make sure it is completely free of nuts. This not only includes peanuts, but also almonds, cashews, walnuts, hazelnuts, pine nuts, pistachios, and any other food item that is considered a "nut". If we believe that any food item possesses nuts (or it says so on the label) we will not serve it at lunch time and will send it home instead. Your being careful helps to keep our children healthy and happy, so thank you so much for keeping Rainbow nut free!
Lastly we would like to announce that our new director, Laurie Goldsmith, will be starting here at Rainbow Playschool on August 4th–this coming Monday! We are so excited to have her working with us and sharing her years of experience with our school.
Welcome, Laurie Goldsmith!
---
Using Procare Connect: Childcare App
During this time, Rainbow Playschool has utilized the Procare Connect: Childcare App to help us communicate with our families.  It's even how we're sending out this newsletter!   Procare helps us to connect to you–be it us asking for more diapers or clothing, or informing you of an incident, or even just us sharing pictures of your children having fun!   To stay connected to us, we ask that you download the Procare Connect app onto your smart phone or other smart device.  Here we've provided links to download the app for yourself!
For the Procare Connect: Childcare App in the Apple Store, click here: https://apps.apple.com/us/app/procare-connect-childcare-app/id1309822135
For the Procare Connect: Childcare App in the Google Play Store, click here: https://play.google.com/store/apps/details?id=com.kinderlime.dev&hl=en_US
---
News from the 1-2 Year Room
How can it be that we are already writing something for the August newsletter?  As we have been getting reacquainted with your child we are observing lots of changes.  Everyone is growing in leaps and bounds, not only physically but socially and emotionally. We are hearing lots of language and we feel the transition from being away from Rainbow is getting easier for everyone.
We have taken walks/rides in the stroller and wagon to Billings Farm and Faulkner Park. We continue to enjoy our redesigned playground where water play and the sand pit are favorites. We have had some awesome pancakes and muffins made with applesauce, blueberries and apples for snack!
Overall we are feeling great about how our first month has gone.
We do have a few reminders to mention:
Allergies: One of our students is severely allergic to nuts and garlic. While Rainbow has gone "Nut free", we encourage you to think about how much garlic is in the foods that are being sent for lunch. Toys are the first thing that go into a young child's mouth, and while we are vigilant in disinfecting and sanitizing , we could use your assistance with reducing the amount of garlic in the classroom to reduce the risk of a reaction.
Pick ups/End of Day: If you are planning on picking up your child early, please let us and send a message through Procare or call Rainbow 802-457-3629.
We thank you for your support and patience as we continue to deal with changes!
---
News from the preschool room
We have successfully made it through our first couple of weeks back at Rainbow, and through this heat! It has been so wonderful reconnecting with all of our families and kiddos; we have missed you all so much!
We have spent a lot of time outside exploring the new playground, playing in the water tables, and going for walks on the walking paths. As a reminder, please make sure your child has comfortable walking shoes and have sunscreen applied to them prior to arrival–we will reapply sunscreen as needed.
---
Thank you for continuing to support Rainbow Playschool, and we cannot wait to continue this lovely summer with you!